Lead Renovator Initial Certification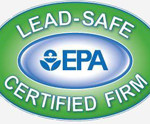 Starting October 1, 2010, all contractors who disturb paint in pre-1978 and child occupied facilities with more than 6 square feet per room or 20 square feet outside must be trained in lead safe work practices and have at least one certified renovator assigned to the job site. The legislation requires all firms and their employees to be properly trained to use lead-safe work practices in an effort to minimize lead exposure to building occupants.
(8 HOURS) Renovation firms must have at least one certified Renovator who has completed training and obtained certification from EPA and a firm certification from EPA. The course concludes with a twenty-five (25) question exam.